Liberty Drive offers customers a rebate of up to $1,500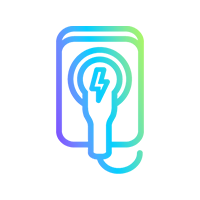 Liberty Drive offers customers a rebate of up to $1,500 to help Liberty customers to offset the cost of installing an EV charger at their homes. Current status of rebate budget remaining can be viewed on the log in page for the online application. Rebates are paid after the charger is installed and all program requirements are met.
Restrictions apply, see application for details
Incentive Information
Incentive Information
REBATE APPLICATION PROCESS
ELIGIBILITY REQUIREMENTS
To be eligible, participants must:
- Be the named Liberty customer of record at the installation location (and if a tenant, have permission to install the charger from the property owner).
- Currently have a PEV (Plug-In Electric Vehicle) registered in the name of the Liberty customer, acquired on or after June 30, 2017.
- Have a licensed California electrical contractor install a qualified charger.
- Provide receipts and invoices for equipment purchase, installation labor and any other required costs.
- If a building permit is required by the local building department, provide a evidence of a passed building inspection.
- Consent for charger usage data to be shared to Liberty by the charger manufacturer.
- Agree to register the charger with the manufacturer and maintain an internet connection to the charger.
- Agree take service on the
Liberty TOU-EV rate
(existing solar customers are eligible for the charger rebate, but cannot participate in the TOU-EV rate).
- Agree to leave the charger in the home for the ten-year term of the program.
QUALIFIED CHARGERS
Participants must select from the list of Liberty's qualified chargers, shown below. Chargers other than those listed below are not eligible for the Liberty rebate. These chargers are universal (can charge any make of car on the market today, including Tesla, using a J1772 connector) and connect to 240 volt electrical service, delivering 20 to 50 amps (depending on the capacity available at the home).
Manufacturer and Model
ChargePoint
HomeFlex
Enel X
JuiceBox 32 (hardwire or plug-in)
JuiceBox 40 (hardwire or plug-in)
JuiceBox 48 (hardwire)
FLO
Home X5
Links are provided for reference only – qualified chargers may be purchased from vendor of participant's choice.
QUALIFIED CONTRACTORS
Participating customers may select any actively licensed California electrical contractor
(C-10)
to perform their EV charger installation. Customers are encouraged to get multiple bids and to confirm a contractor's license status before making a selection. Here are some useful contractor selection resources:
Contractor License Lookup.
See the current status of any company licensed through the California State Licensing Board.
Find a Licensed Contractor.
Search for licensed contractors by license type and Zip Code.
APPLICATION
Many contractors will apply on the behalf of their customers, or participants may apply themselves. Applications may be submitted after the installation is completed, or participants may apply prior to installation. Customers who are awaiting delivery of a PEV are welcome to apply before their vehicle is received – Liberty will hold a rebate for applicants for at least six months. First time users of the
online application
will register for a new account. Once logged in, applicants select the link for the "New EV Charger Rebate Application". Further instructions are in the online form.